The future looks brighter during the holiday season, and for this little Finding Freedom through Friendship family, it is.
In 2014 Larry, his brother Dennis and their widowed mother were homeless, malnourished and financially helpless. For months, their existence was delegated by the daily life of a hospital ward where the family was living while waiting for something that they could not define by name because they had never known it….security.
Dennis is too young to realize that he and his brother are terminally ill. The boys do what children do so well: they live in the moment. They don't understand the logistics of how they came to be included in our program, nor do they know that their rent is paid by our donors, as is the majority of the food they eat, their educational costs and the medical supplies needed to keep their skin from becoming infected.
When a child is free from the fear of not having his daily needs met, they become what they were meant to be. Spending time with Dennis is magical. His hugs are joyful and heartfelt, and the connection to his brother is beyond definition. This fragile little boy (26 lbs, at age 7) doesn't have a normal lifespan, but if we listen, he has a lot to teach us in a short time. If he had the grown-up words, he would tell you to stop worrying about the future, and find joy in the moment, just as he has done. Dennis would explain that relationships are the most important thing ever, because everything else can be taken away as soon as the money to support them runs out.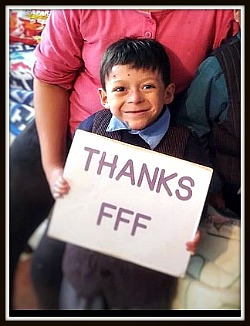 Dennis is a petite Guatemalan child who doesn't have the language to share those thoughts, after all he is  only seven years old. But his message comes across in recent photos of his kindergarten graduation; a graduation that would have never been without the support of our donors and is therefore so much more joyful.
That is one word Dennis knows well.