The feeling of hope is elusive among Mayan widows in Guatemala.
Without support from social services, food substance programs or donations of church services, a woman without a husband in Guatemala carries grief of two kinds: a broken heart for the man who is suddenly missing in her life and despair over a future without a wage earning partner. Add the concern of feeding young children, educating them and paying for household expenses and widowhood in a developing country can become a soul-crushing burden.
When Finding Freedom volunteers interview a potential new widow for entry into our program, we have the pleasure of watching hope in action. Explaining our program, and her role within it, germinates a tiny spark of feeling deep inside a woman frozen with grief. Her first reaction is disbelief. Guatemalan widows are at the bottom of the social strata in every respect of the word: economically, socially and culturally. Why, she wonders, would anyone care enough about her to offer the lifeline of nutritional, educational and housing assistance? 
Women in Central America are not strangers to a life of labor. Young Guatemalan girls often mimic the housework of their mothers….carrying the newest baby on their backs, washing heavy traditional clothing in a communal water source or nearby river, and chopping firewood. The female component of this patriarchal society are strong and resilient women, but widowhood breaks them down. As in the case of Eva, our newest FFF widow, they often become malnourished and age before their time, leaving their children defenseless against the cycle of grinding poverty that they were born into.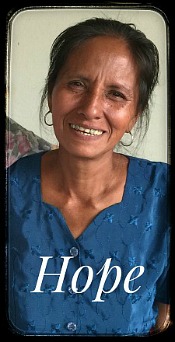 Finding Freedom does not take admission into our program lightly. Our budget is as constrained as most nonprofit funds are in this age of unprecedented humanitarian need. Before committing to accepting a Guatemalan widow into FFF, we send one of our facilitators to fill out applications, take photographs and interview family members. We inspect the current housing situation and investigate the options for self-reliance on the part of the potential new participant. Our donors trust us to use their funds wisely, and we value that trust.
Finding Freedom supporters can't be in Guatemala with us to witness the transformation in a woman's face when she starts to realize that FFF is a trustworthy, relationship based organization that has selected HER to walk with in this journey back to emotional and physical health. Seeing the transformation in a new Finding Freedom widow makes the trip to Guatemala worthwhile.
Without hope, there is nothing.